We have all heard of the legendary American stories of scientist Stephen Hawking and legendary statesman Franklin D Roosevelt, who overcame disability to leave an everlasting mark on the world even though they were restricted to wheelchairs. A similar story closer home is of one of the pioneers of the Indian coaching industry, the man who made Kota the hub for IIT JEE coaching aspirants in India. From overcoming paralysis to being the man who brought Kota to the map, here is the story of educationist and math wizard VK Bansal:
A fresh engineering graduate out of the Indian Institute of Technology – BHU, Vinod Kumar Bansal joined a chemical company in Kota known as J. K. Synthetics. It was while working here in his mid-20s, that VK Bansal was diagnosed with a condition that completely paralysed him.
With paralysis limiting his movement, VK Bansal decided to start coaching eight local IIT JEE aspirants from his dining table in 1983. Two years later, one of his students cracked the prestigious competitive exam. That was the turning point in Bansal's life.
After a few more of Bansal's students attained IITian status, he decided to formally start Bansal Classes in Kota in 1991. Rest, as they say, is history.
Bansal was a beloved teach who would teach mathematics along with songs and stories, so much so that people would often not realise the serious and rare illness he suffered from.
Helping thousands achieve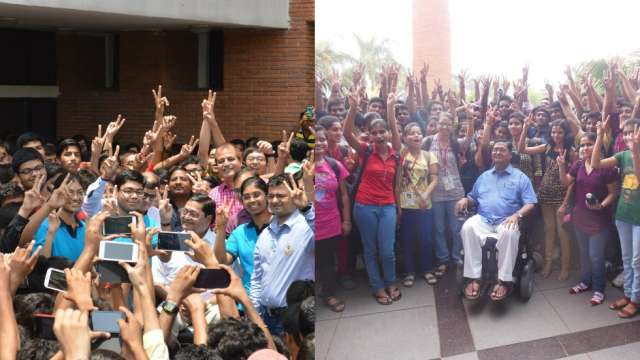 From a few local students 30 years ago when Bansal laid the foundation of Kota as a coaching hub, today the town sees 1.5 to 2 lakh students arrive every year. Bansal Classes' success resulted in the explosion of coaching centres in the city with as many as 40 today, including other prominent names like Allen Career Institute, Resonance and Vibrant.
For Bansal Classes, 2000 was a landmark year when their students bagged AIR 1 and AIR 2 ranks in JEE.
The success of the town as a hub of IIT JEE success reached its peak in 2017 when 39,000 aspirants who were coached at Kota cracked JEE (Main), also making up nearly half of the top 100 students.
The industry that Bansal pioneered didn't just fulfill dreams of students but also reported impacts the livelihoods of around 2 lakh people in Kota. These include shopkeepers, local vendors, staff, auto and rickshaw drivers and security guards that run an ecosystem of 3,000 hostel and 20,000 paying guest (PG) accommodations.
An educationist till the very end
With his health not cooperating, Bansal curtailed his role as an educationist around 2015. However, he continued to be a part of student's lives by helping them with tips and tricks till the very end.
VK Bansal breathed his last after suffering a heart attack this year in May. He had tested positive for COVID-19.
Original article, if reprinted, please indicate the source